B 2004 16.2HH (1.68M)
Galileo – Speirbhean (Danehill)
Standing at Kildangan Stud, Co Kildare
A G1 winner in each and every one of his first 11 crops. He's the only active stallion who can claim this – and one of only seven since the Pattern began, after Mr Prospector, Sadler's Wells, AP Indy, Deep Impact, Galileo and Shamardal. A burgeoning influence: dam sire of both Guineas winners in 2022, and top freshman Havana Grey is his grandson. 2022 yearling average: €126k with Joseph O'Brien buying his 300,000gns top lot.
Best progeny
His winning offspring
Video footage
Watch him go:
see him at his best
Dewhurst S (G1), 7f, Newmarket, 14 Oct 2006
National S (G1), 7f, Curragh, 17 Sep 2006
Futurity S (G2), 7f, Curragh, 26 Aug 2006
Tyros S, 7f, Leopardstown, 29 July 2006
Maiden race 7f, Curragh, 16 July 2006
Watch THEM go:
big wins by his offspring
Pedigree
TEOFILO

GALILEO

SADLER'S WELLS

NORTHERN DANCER

NEARCTIC

NATALMA

FAIRY BRIDGE

BOLD REASON

SPECIAL

URBAN SEA

MISWAKI

MR PROSPECTOR

HOPESPRINGSETERNAL

ALLEGRETTA

LOMBARD

ANATEVKA

SPEIRBHEAN

DANEHILL

DANZIG

NORTHERN DANCER

PAS DE NOM

RAZYANA

HIS MAJESTY

SPRING ADIEU

SAVIOUR

MAJESTIC LIGHT

MAJESTIC PRINCE

IRRADIATE

VICTORIAN QUEEN

VICTORIA PARK

WILLOWFIELD
By GALILEO (1998) Derby S (G1), Irish Derby S (G1), etc. Sire of 3,039 foals aged three and up, including TEOFILO, NEW APPROACH, ADELAIDE, ANTHONY VAN DYCK, AUSTRALIA, CAPE BLANCO, CHURCHILL, CIRCUS MAXIMUS, FOUND, FRANKEL, GLENEAGLES, HIGHLAND REEL, INTELLO, JAPAN, JOAN OF ARC, KYPRIOS, LINE OF DUTY, LOVE, MAGICAL, MAGICAL LAGOON, MAGICIAN, MINDING, MOGUL, NATHANIEL, NOBLE MISSION, RIP VAN WINKLE, RULER OF THE WORLD, SERPENTINE, SOVEREIGN, THE GURKHA, TUESDAY, ULYSSES, WALDGEIST, etc.
1st dam: SPEIRBHEAN by Danehill. Winner (8f) at 3, 1,000 Guineas Trial S. Dam of 14 foals, 9 to race, 6 winners:
TEOFILO (c Galileo) Champion, see Race record.
POETIC CHARM (f Dubawi) 6 wins (7f-9f), at 2 and 3, Balanchine S (G2), Cape Verdi S (G2), Prix de la Cochere, 2nd Prix de Lieurey (G3).
BEAN FEASA (f Dubawi) Winner (8f) at 3, Derrinstown Stud 1,000 Guineas Trial S (G3).
SENORA GALILEI (f Galileo) Winner (10f) at 3. Dam of:
We'll Go Walking (f Authorized) 2nd Blue Wind S (G3), Victor McCalmont EBF S, twice.
Stars Aligned (f Sea The Stars). Dam of: TEOREMA (f Just A Way) T JBC Ladies' Classic, CK Jo O Hai, Marine Cup; Harmony Magellan (c Daiwa Major) 2nd Crocus S.
Fair Hill (f New Approach) Unraced. Dam of:
FONTHILL ABBEY (f Dubawi) Prix Bertrand de Tarragon (G3), 2nd Prix de la Cochère.
2nd dam: SAVIOUR by Majestic Light. 3 wins (9f-11f) at 2 and 3. Sister to WAR. Dam of 7 winners:
GRADUATED (g Royal Academy) 7 wins, 4 to 7, Golden Pages H.
SPEIRBHEAN (f Danehill) Black Type winner, see above.
Cornwall (c Danehill) 6 wins, 2 to 5, 2nd El Gran Senor S.
ELIDA (f Royal Academy) 2 wins. Grandam of: POETIC FLARE (c Dawn Approach) 2,000 Guineas (G1), St James's Palace S (G1), 2nd Sussex S (G1), Prix Jacques Le Marois (G1), Irish 2,000 Guineas (G1); DUBAI SAND (c Teofilo) Eyrefield S; GLAMOROUS APPROACH (f New Approach) Zetland S.
3rd dam: VICTORIAN QUEEN by Victoria Park. Champion grass horse and older mare in Canada. 12 wins at 3 and 4, Ontario Sire S, Canadian S, 2nd Matron H (G2), Diana H (G2). Dam of 6 winners:
JUDGE ANGELUCCI (c Honest Pleasure) Californian S (G1), San Antonio H (G1), Mervyn LeRoy H (G1), 2nd Hollywood Gold Cup H (G1), 3rd Breeders' Cup Classic (G1). Sire.
PEACE (c Naskra) John Henry H (G1), Cinema H (G2).
WAR (c Majestic Light) Blue Grass S (G1), Lexington S (G3). Sire.
EXTRATERRESTRAL (f Storm Bird) Winner at 3. Dam of:
RADHARCNAFARRAIGE (f Distorted Humor) Ballyogan S (G3), Fillies' Sprint S (G3).
ALIENATED (f Gone West) Golden Triangle S. Dam of: Alienation (f Rock Hard Ten) 2nd Spinaway S (G1), Adirondack S (G2), 3rd Prioress S (G1); Rally Cry (c Uncle Mo) 2nd Woodward S (G1). Grandam of: Alien Giant (f Giant's Causeway) 2nd Landaluce S. Third dam of: HEAVENLY SUNDAY (f Candy Ride) Edgewood S (G2), 3rd Appalachian S (G2).
EXHAUST NOTE (c A P Indy) Hopeful S.
Machikane Isaribi (c Gone West) 3rd Keio Hai Sansai S (G2).
Fidrych (c Grand Slam) 2nd Mountain Valley S.
Allwise (f Mr Greeley) 3rd Kanto Oaks.
Conformation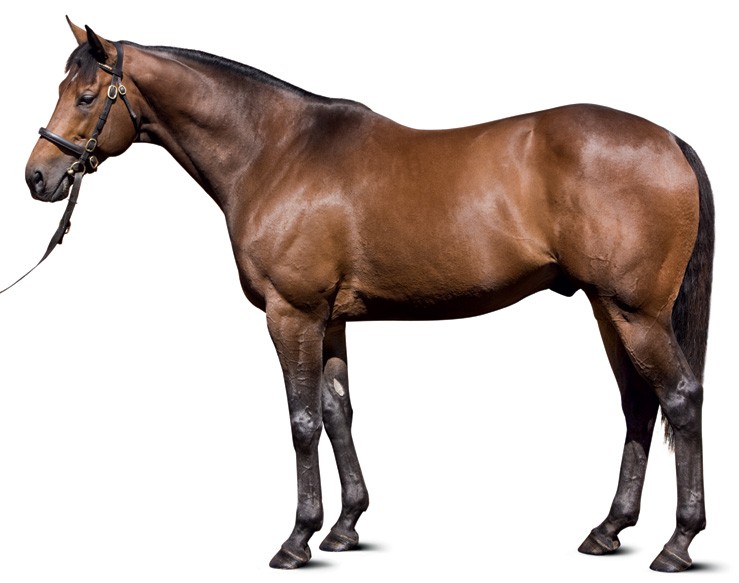 Race record
His successful career
| | | | | | |
| --- | --- | --- | --- | --- | --- |
| Age | Starts | 1st | 2nd | 3rd | 4th |
| Two | 5 | 5 | - | - | - |
| Total | 5 | 5 | - | - | - |
At 2 European Champion two-year-old
1st

Dewhurst S (G1), 7f, Newmarket, beating Holy Roman Emperor, Strategic Prince, Haatef, Vital Equine, Rallying Cry, Adagio, He's A Decoy, Traffic Guard, Dubai Builder, Prime Defender, Hamoody, Halicarnassus.

1st

National S (G1), 7f, Curragh, beating Holy Roman Emperor, Eyshal.

1st

Futurity S (G2), 7f, Curragh, beating Eagle Mountain, Ferneley, Regional Counsel, Yellowstone.

1st

Tyros S, 7f, Leopardstown, beating Whatsthescript.

1st

Maiden race 7f, Curragh, beating Red Rock Canyon, Eyshal. 
Timeform 126