Ch 2011 16.0½HH (1.63M)
Dubawi – Forest Storm (Galileo)
Standing at Kildangan Stud, Co Kildare
Sire of Europe's leading sprinter, the amazing three-time G1 winner Highfield Princess. She's from his incredible first crop, which has produced 23% Stakes winners: better than both his sire and his broodmare sire. A brilliant sales stallion with his 2023 Arqana yearlings including a colt who made €660,000 and a filly reaching €500,000.
Best progeny
His winning offspring
Video footage
Watch him go:
see him at his best
2,000 Guineas (G1), 8f, Newmarket, 3 May 2014
Lockinge S (G1), 8f, Newbury, 16 May 2015
Doncaster S (LR), 6f, Doncaster, 26 October 2013
Watch THEM go:
big wins by his offspring
Special insights:
interviews, expert opinion and more
See the full playlist on YouTube
Pedigree
NIGHT OF THUNDER

DUBAWI

DUBAI MILLENNIUM

SEEKING THE GOLD

MR. PROSPECTOR

CON GAME

COLORADO DANCER

SHAREEF DANCER

FALL ASPEN

ZOMARADAH

DEPLOY

SHIRLEY HEIGHTS

SLIGHTLY DANGEROUS

JAWAHER

DANCING BRAVE

HIGH TERN

FOREST STORM

GALILEO

SADLER'S WELLS

NORTHERN DANCER

FAIRY BRIDGE

URBAN SEA

MISWAKI

ALLEGRETTA

QUIET STORM

DESERT PRINCE

GREEN DESERT

FLYING FAIRY

HERTFORD CASTLE

REFERENCE POINT

FOREST FLOWER
By DUBAWI (2002) Irish 2,000 Guineas (G1), Prix Jacques le Marois (G1), National S (G1), etc. Sire of 1,750 foals aged three and up, including NIGHT OF THUNDER, GHAIYYATH, NAVAL CROWN, POSTPONED, SPACE BLUES, TOO DARN HOT, ALBAHR, AKEED MOFEED, AL KAZEEM, ARABIAN QUEEN, BENBATL, COROEBUS, CREATIVE FORCE, ELDAR ELDAROV, ERUPT, HUNTER'S LIGHT, LORD NORTH, LUCKY NINE, MAKFI, MODERN GAMES, MONTEROSSO, NEW BAY, OLD PERSIAN, POET'S VOICE, QUORTO, REBEL'S ROMANCE, THE REVENANT, WALDPARK, YIBIR, ZARAK, etc.
1st dam: Forest Storm by Galileo. Winner (7f) at 2, 2nd Flame of Tara EBF S. Dam of 1 foal, 1 to race, 1 winner:
NIGHT OF THUNDER (c Dubawi) G1 winner, see Race record.
2nd dam: Quiet Storm by Desert Prince. 2 wins (7f-10f) at 3, 2nd Upavon S, 3rd Pipalong S. Dam of 8 winners:
NEW ALLIANCE (f Burden Of Proof) 4 wins at 2 to 4, Bangalore Oaks, Mysore 1,000 Guineas, 3rd Bangalore 1,000 Guineas.
Forest Storm (f Galileo) Black type placed, see above.
STORM FRONT (c Burden Of Proof) 3 wins.
STAR HOLIDAY (g Burden Of Proof) 3 wins.
ABERLOUR (g Burden Of Proof) 2 wins.
TEA CUP (f Danehill Dancer) Winner at 3.
3rd dam: Hertford Castle by Reference Point. Dam of 5 winners:
Safarando (c Turtle Island) 2nd Easter S, 3rd Oceanside S. Sire.
Quiet Storm (f Desert Prince) Black type placed winner, see above.
Castilian (g Priolo) 3rd Pilot Fineliner Cup.
ALHER (c Alzao) Winner at 3 and 4.
WHOZART (g Mozart) Winner at 4 and 5.
4th dam: FOREST FLOWER by Green Forest. Champion two-year-old filly in Europe, 5 wins at 2 and 3, Irish 1,000 Guineas (G1), Mill Reef S (G2), Cherry Hinton S (G3), Queen Mary S (G3), 2nd Phoenix S (G1). Dam of 7 winners:
Hill Of Dreams (g Shirley Heights) 2nd Grand Handicap International d'Ostende.
FLOWER ARCH (f Nashwan) 5 wins at 3 to 5. Dam of:
Best Of Me (f Brian's Time) 2nd Hochi Hai Fillies' Revue.
EASTWOOD HALL (g Reference Point) 8 wins, 3 to 7.
EISHIN DUNKIRK (c Mr Prospector) 3 wins at 2 and 3. Sire.
AL NABA (c Mr Prospector) Winner at 2 and 3. Sire.
FLAMING FEATHER (c Shirley Heights) Winner at 2. Sire.
EISHIN ASPEN (c Gone West) Winner at 5.
Conformation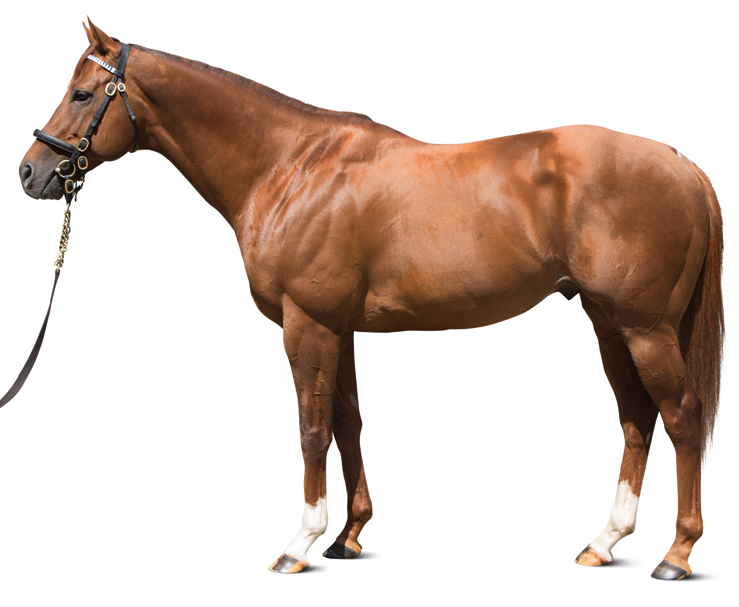 Race record
His successful career
Age
Starts
1st
2nd
3rd
4th
Two
2
2
-
-
-
Three
6
1
3
1
-
Four
3
1
-
-
-
Total
11
4
3
1
-
 
At 2
1st

Doncaster S, 6f, Doncaster, by 3l, beating Aeolus, Stubbs, Rufford.

1st

Maiden race, 6f, Goodwood, by 6l, beating Nakuti.
At 3
1st

2,000 Guineas S (G1), 8f, Newmarket, beating Kingman, Australia, Shifting Power, Charm Spirit, Noozhoh Canarias, Toormore, Kingston Hill, War Command, The Grey Gatsby, Bookrunner, Ertijaal, Outstrip.

2nd

Queen Elizabeth II S (G1), 8f, Ascot, by ½l, to Charm Spirit, beating Toormore, Tullius, Captain Cat, Kingsbarns, Integral, Custom Cut, Brendan Brackan, Top Notch Tonto, Graphic.

2nd

St James's Palace S (G1), 8f, Royal Ascot, to Kingman, beating Outstrip, War Command, Toormore, Prince Of All.

2nd

Greenham S (G3), 7f, Newbury, to Kingman, beating Master Carpenter, Astaire, Berkshire, Supplicant.

3rd

Prix du Moulin de Longchamp (G1), 8f, Longchamp, by a head and a neck, to Charm Spirit, Toronado, beating Esoterique, Bawina, Sommerabend, Decathlete, Master Carpenter.
At 4
1st

Lockinge S (G1), 8f, Newbury, beating Toormore, Arod, Integral, Cable Bay, Here Comes When, Breton Rock, Aljamaaheer, Custom Cut, Hors de Combat, Cougar Mountain, Captain Cat, Top Notch Tonto, Master Carpenter, Moohaarib.