£10,000
B 2019 16.0HH (1.62M)
Frankel – Reem Three (Mark Of Esteem)
Oct 1, Special Live Foal. Standing at Dalham Hall Stud, Newmarket
Frankel's best miling son and a power-packed expression of pure Frankel speed. Rated 124 by Timeform and brilliant G1 Queen Anne winner from an elite field: four Champions, the winners of 16 G1s and 11 G2s, and five of his rival new stallions for 2024 – all beaten. Precocious as well as fast – on the track in June at two, and won the Listed Ascendant Stakes in a new record time.
Pedigree
TRIPLE TIME

FRANKEL

GALILEO

SADLER'S WELLS

NORTHERN DANCER

FAIRY BRIDGE

URBAN SEA

MISWAKI

ALLEGRETTA

KIND

DANEHILL

DANZIG

RAZYANA

RAINBOW LAKE

RAINBOW QUEST

ROCKFEST

REEM THREE

MARK OF ESTEEM

DARSHAAN

SHIRLEY HEIGHTS

DELSY

HOMAGE

AJDAL

HOME LOVE

JUMAIREYAH

FAIRY KING

NORTHERN DANCER

FAIRY BRIDGE

DONYA

MILL REEF

DUNETTE
By FRANKEL (2008) 2,000 Guineas (G1), Queen Anne S (G1), International S (G1), Champion S (G1), Queen Elizabeth II S (G1), etc. Sire of 926 foals aged three and up, including TRIPLE TIME, ADAYAR, CRACKSMAN, ALPINISTA, CALL THE WIND, CHALDEAN, CONVERGE, COURAGE MON AMI, DREAM CASTLE, HOMELESS SONGS, HUNGRY HEART, HURRICANE LANE, INSPIRAL, JANNAH ROSE, LOGICIAN, MCKULICK, MIRAGE DANCER, MOSTAHDAF, MOZU ASCOT, NASHWA, ONESTO, QUADRILATERAL, SNOW LANTERN, SOUL SISTER, SOUL STIRRING, VERACIOUS, WESTOVER, WILD BEAUTY, WITHOUT PAROLE, YLANG YLANG, etc.
1st dam: Reem Three by Mark Of Esteem. 3 wins (8¾f-10½f ) at 3, 2nd Hoppings S. Dam of 13 foals, 9 to race, 8 winners:
TRIPLE TIME (c Frankel) G1 winner, see Race record.
AJMAN PRINCESS (f Teofilo) Champion older mare in France, 3 wins (10f-12f ) at 4, Prix Jean Romanet (G1), Daisy Warwick S, 2nd Ribblesdale S (G2), Lyric S, 3rd Lancashire Oaks (G2), Pinnacle S (G3).
OSTILIO (g New Approach) 8 wins (7f-8f ) at 3 to 7, Prix Daniel Wildenstein (G2), Guisborough S, 2nd Thoroughbred S (G3).
CAPE BYRON (g Shamardal) 6 wins (6f-8f ) at 2 to 7, Bengough S (G3), 3rd City of York S (G2), Prix le Fabuleux.
THIRD REALM (g Sea the Stars) 3 wins (9½f-12f ) at 3 and 4, Tapster S, Derby Trial S, 3rd Gordon S (G3), Buckhounds S.
CAPTAIN WINTERS (c Lope de Vega) 2 wins (7f-8f ) at 2 and 3, 2023, Heron S, 3rd Ascendant S.
Imperial Charm (f Dubawi) Winner (7f ) at 2, 2nd Prix de la Grotte (G3), 3rd Prix Saint Alary (G1), Prix Chloé (G3), Prix de la Cochère.
NAQSHABBAN (g Street Cry) 3 wins (7f-12f ) at 2 and 3.
Rosaline (f New Approach) Unraced. Dam of:
ROSALLION (c Blue Point) 3 wins at 2, 2023, Prix Jean-Luc Lagardère (G1), Pat Eddery S, 3rd Champagne S (G2).
2nd dam: JUMAIREYAH by Fairy King. 2 wins at 2 and 3. Dam of 6 winners:
AFSARE (g Dubawi) 6 wins at 3 to 6, Celebration Mile (G2), Sovereign S (G3), Gala S, Hampton Court S, 2nd Premio Presidente della Repubblica (G1), Arlington Million S (G1), York S (G2), Fred Archer S, Gala S.
3rd dam: Donya by Mill Reef. Placed at 3. Dam of 8 winners:
LOST SOLDIER THREE (g Barathea) Silver Cup, 3rd Dubai City of Gold S (G3), Fenwolf S, Castle S, Silver Cup.
Altaweelah (f Fairy King) 2nd Troy S, 3rd James Seymour S. Dam of:
Qasirah (f Machiavellian) 2nd Sweet Solera S, 3rd Princess Elizabeth S (G3). Dam of: TOOLAIN (g Diktat) Winkfield S; TANTSHI (f Invincible Spirit) October S. Grandam of: SUMMER FESTIVAL (g Poet's Voice) Champion three-year-old in Italy, Derby Italiano (G2).
ZEEBA (f Barathea) Winner at 3. Dam of:
DANADANA (c Dubawi) Huxley S (G3), Anatolia Trophy, 2nd Strensall S (G3), Foundation S, 3rd Huxley S (G3), Anatolia Trophy. Sire.
4th dam: DUNETTE by Hard To Beat. 5 wins at 2 to 4, Grand Prix de Saint-Cloud (G1), Prix de Diane (G1). Dam of 6 winners:
FRENCH GLORY (c Sadler's Wells) International S (G1), Prix Maurice de Nieuil (G2), La Coupe de Longchamp (G3), 2nd Prix Niel (G2). Sire.
Stud record
Triple Time stands his first season in 2024.
Conformation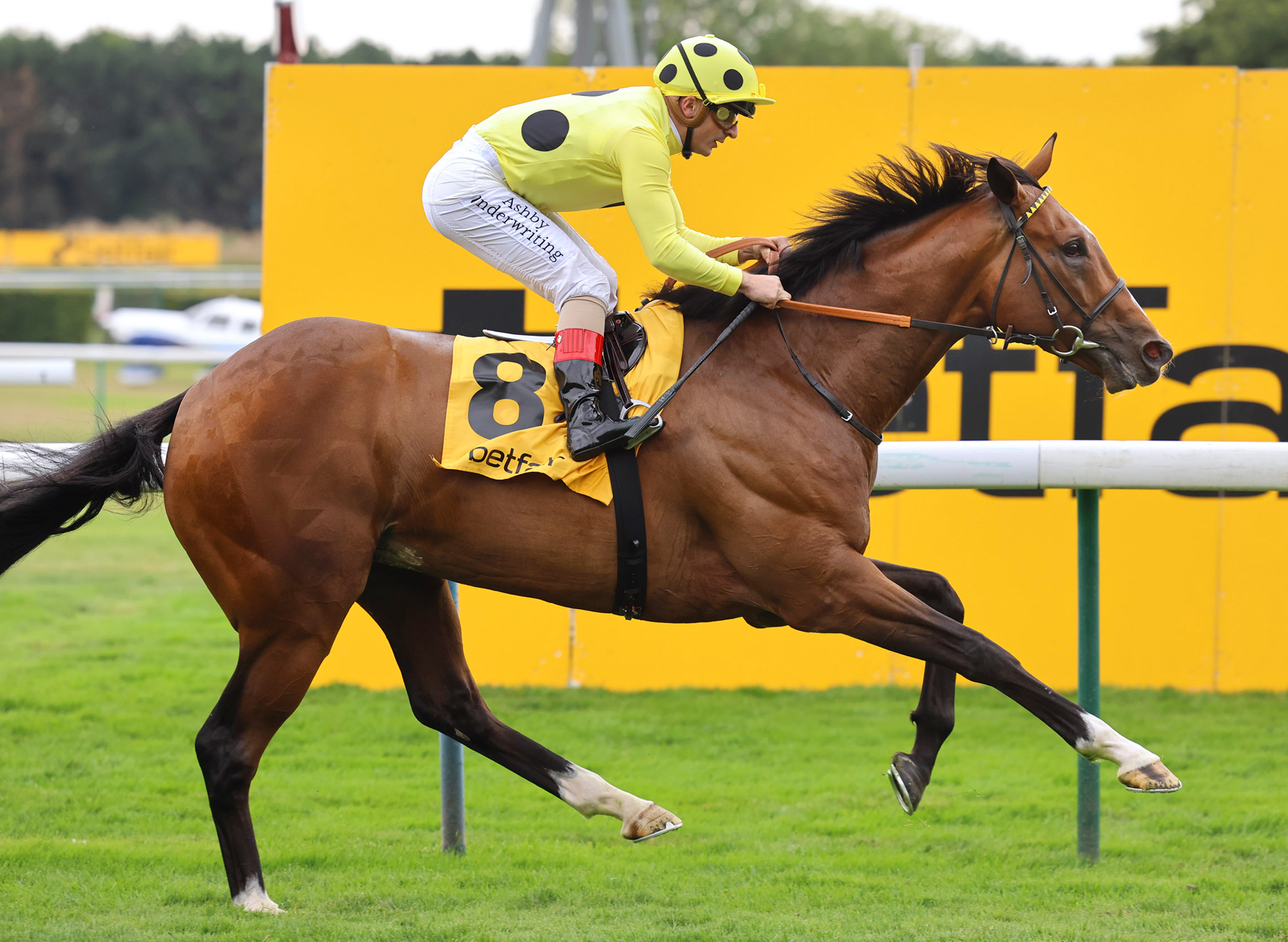 Race record
His successful career
| | | | | | |
| --- | --- | --- | --- | --- | --- |
| Age | Starts | 1st | 2nd | 3rd | 4th |
| Two | 4 | 2 | 1 | 1 | - |
| Three | 2 | 1 | - | - | - |
| Four | 2 | 1 | - | - | - |
| Total | 8 | 4 | 1 | 1 | - |
At 2
1st

Ascendant S, 8¼f, Haydock Park, beating Hafit, Dukebox, Power Of Beauty.

1st

Novice race, 8f, Haydock Park, by 9½l.
At 3
1st

Superior Mile (G3), 8¼f, Haydock Park, beating Tacarib Bay, Marie's Diamond, Perotto.
At 4
1st

Queen Anne S (G1), 8f, Royal Ascot, beating Inspiral, Light Infactry, Modern Games, Berkshire Shadow, Chindit, Angel Bleu, Native Trail, Cash, Pogo, Mutasaabeq, Lusail.
Timeform 124
Video footage
Watch him go:
see him at his best
Queen Anne S (G1), 8f, Royal Ascot, 20 Jun 2023
Superior Mile (G3), 8¼f, Haydock Park, 03 Sep 2022
Ascendant S, 8¼f, Haydock Park, 04 Sep 2021
Novice race, 8f, Haydock Park, 06 Aug 2021