£30,000
Ch 2019 15.3HH (1.60M)
Dubawi – Modern Ideals (New Approach)
Oct 1, Special Live Foal. Standing at Dalham Hall Stud, Newmarket
Head-down hero of five major G1s at a mile. The only other active stallions with so many? Frankel, Baaeed and Palace Pier. Dubawi's most prolific G1 winner, with championship triumphs at two, three and four. European Champion miler of his generation. Two wins at the Breeders' Cup. Eclipse Champion in the US, having run the fastest turf mile since 2005. Then a fifth G1 in the Lockinge: his win there was rated superior to Night Of Thunder's win in the race.
Pedigree
MODERN GAMES

DUBAWI

DUBAI MILLENNIUM

SEEKING THE GOLD

MR PROSPECTOR

CON GAME

COLORADO DANCER

SHAREEF DANCER

FALL ASPEN

ZOMARADAH

DEPLOY

SHIRLEY HEIGHTS

SLIGHTLY DANGEROUS

JAWAHER

DANCING BRAVE

HIGH TERN

MODERN IDEALS

NEW APPROACH

GALILEO

SADLER'S WELLS

URBAN SEA

PARK EXPRESS

AHONOORA

MATCHER

EPITOME

NASHWAN

BLUSHING GROOM

HEIGHT OF FASHION

PROSKONA

MR PROSPECTOR

KONAFA
By DUBAWI (2002) Prix Jacques Le Marois (G1), Irish 2,000 Guineas (G1), National S (G1), etc. Sire of 1,925 foals aged three and up, including MODERN GAMES, GHAIYYATH, NAVAL CROWN, NIGHT OF THUNDER, SPACE BLUES, TOO DARN HOT, AL KAZEEM, ANCIENT WISDOM, BENBATL, COROEBUS, HENRY LONGFELLOW, LORD NORTH, MAKFI, MASTER OF THE SEAS, NEW BAY, POET'S VOICE, REBEL'S ROMANCE, ZARAK, etc.
1st dam: Modern Ideals by New Approach. Dam of 8 foals, 5 to race, 4 winners:
MODERN GAMES (c Dubawi) Champion, see Race record.
MAWJ (f Exceed and Excel) 6 wins (6f-8f) at 2 and 3, 2023, 1,000 Guineas (G1), Queen Elizabeth II Challenge Cup S (G1), Duchess Of Cambridge S (G2), 2nd Breeders' Cup Mile (G1), Albany S (G3), 3rd Cheveley Park S (G1).
MODERN NEWS (g Shamardal) 6 wins (6f-8f) at 2 to 4, Royal Windsor S, 2nd Sovereign S (G3), Diomed S (G3), Midsummer S.
2nd dam: Epitome by Nashwan. Placed at 3. Dam of 11 winners:
ULTRA (c Manduro) 4 wins at 2 to 4, Prix Jean-Luc Lagardere (G1), Prix Jacques Laffitte, 2nd Prix Eugène Adam (G2). Sire.
SYNOPSIS (f In The Wings) 2 wins at 3, Prix Minerve (G3).
Epic Similie (f Lomitas) 2 wins at 3, 3rd Prix Panacee. Dam of:
Figure of Speech (g Invincible Spirit) 2nd July S (G2), Sirenia S (G3).
Autumn Snow (f Invincible Spirit). Dam of: BEHIND ENEMY LINES (c Sioux Nation) Cutler Bay S, 2nd Penn Mile S (G2).
3rd dam: PROSKONA by Mr Prospector. Champion three-year-old filly & sprinter in Italy, 5 wins at 3 and 4, Premio Umbria (G2). Dam of 7 winners:
CALISTA (f Caerleon) Canadian H (G2), 2nd Prix de Psyché (G3).
NOESIS (f Persepolis) 2 wins at 3. Dam of:
IBUKI PERCEIVE (f Caerleon) Daily Hai Queen Cup. Grandam of: CHIEF KITTEN (c Kitten's Joy) Pulpit S, 3rd Woodhaven S.
Summer Sonnet (f Baillamont) 3rd La Coupe. Dam of: ACT ONE (c In The Wings) Prix Lupin (G1). Sire; SUMMER SOLSTICE (f Caerleon) Prix de Thiberville. Grandam of: SUMMER BREEZING (c Langfuhr) Tiller S; ADIRONDACK SUMMER (c Thunder Gulch) Dania Beach S. Third dam of: SOLO ALBUM (f Curlin) Selene S (G3), 2nd Maple Leaf S (G3); MAEDEAN (f Tapit) Tempted S, 2nd Demoiselle S (G2).
SPACE RITUAL (f Top Ville) Winner at 2. Dam of:
Space Time (f Bering) Placed at 2. Dam of: COSMODROME (f Bahri) Height of Fashion S; SPLASHDOWN (f Falbrav) Ballymacoll Stud S. Grandam of: AKTABANTAY (g Oasis Dream) Solario S (G3); REINA MADRE (f Kingman) Prix Imprudence (G3).
Kapuchka (f Soviet Star). Dam of:
KENTUCKY ROSE (f Hernando) Prix Joubert, 2nd Prix de Flore (G3). Dam of: KEEGSQUAW (f Street Cry) Prix Dahlia. Grandam of: PITCH (g Manduro) La Coupe de Marseille; WEDGE TRUST (f Zamindar) Prix de Bonneval, 2nd Prix de Seine-et-Oise (G3).
Bonnie Doon (f Grand Lodge) Unraced. Dam of:
BONHOMIE (f Shamardal) Winner at 3. Dam of: LANEQASH (g Cable Bay) City Plate, 2nd Hungerford S (G2), 3rd Park S (G2). 
Stud record
Modern Games stands his first season in 2024.
Conformation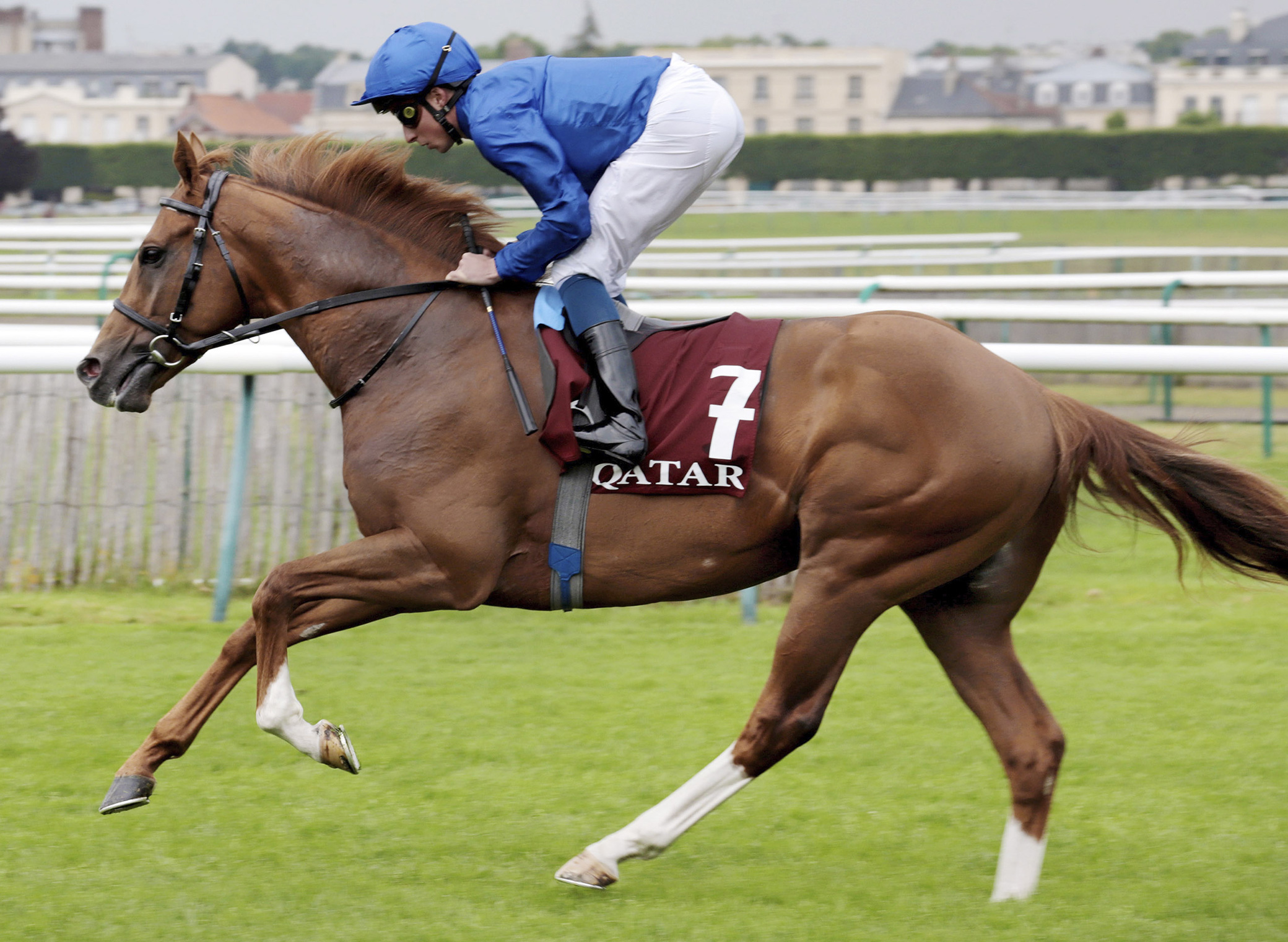 Race record
His successful career
| | | | | | |
| --- | --- | --- | --- | --- | --- |
| Age | Starts | 1st | 2nd | 3rd | 4th |
| Two | 6 | 4 | 1 | - | - |
| Three | 7 | 3 | 2 | 1 | - |
| Four | 3 | 1 | 1 | - | 1 |
| Total | 16 | 8 | 4 | 1 | 1 |
At 2
1st

Breeders' Cup Juvenile Turf (G1), 8f, Del Mar, beating Tiz The Bomb, Mackinnon, Grafton Street, Dakota Gold, Slipstream, Stolen Base, Portfolio Company, Coinage, Dubawi Legend, Great Max, Glounthaune, Credibility.

1st

Somerville Tattersall S (G3), 7f, Newmarket, by 2½l, beating Trident, Harrow, Cresta, Claim The Crown.

1st

Handicap, 7f, Doncaster, by 3½l.

1st

Maiden race, 7f, Newmarket, by 2l.
At 3 Champion three-year-old miler in Europe, Eclipse Champion male turf horse
1st

Poule d'Essai des Poulains (G1), 8f, ParisLongchamp, beating Texas, Tribalist, Ancient Rome, Welwal, Making Moovies, Scherzo, The Acropolis, Calif, Nesr Shalghoda, Rock Boy, Bayside Boy, Nirliit, Claymore.

1st

Breeders' Cup Mile (G1), 8f, Keeneland, beating Shirl's Speight, Kinross, Ivar, Malavath, Order Of Australia, Pogo, Beyond Brilliant, Regal Glory, Annapolis, Dreamloper, Domestic Spending.

1st

Woodbine Mile (G1), 8f, Woodbine, by 5¼l, beating Ivar, Finest Sound, Shirl's Speight, Town Cruise, Mighty Heart, Wakanaka, War Bomber, Get Smokin.

2nd

Queen Elizabeth II S (G1), 8f, Ascot, to Bayside Boy, beating Jadoomi, Checkandchallenge, El Drama, Inspiral, The Revenant, Raadobarg, Tempus.

2nd

Sussex S (G1), 8f, Goodwood, to Baaeed, beating Alcohol Free, Bathrat Leon, Angel Bleu, Chindit, Order Of Australia.

3rd

Prix du Jockey Club (G1), 10½f, Chantilly, to Vadeni, El Bodegon, beating Al Hakeem, Onesto, Machete, Ancient Rome, Welwal, Mister Saint Paul, Ivy League, Imperial Fighter, The Acropolis, Yoozuna.
At 4
1st

Lockinge S (G1), 8f, Newbury, beating Chindit, Berkshire Shadow, My Prospero, Mutasaabeq, Lusail, Light Infantry, Checkandchallenge, The Wizard Of Eye, Laurel, Jumby, Jadoomi.

2nd

Maker's Mark Mile (G1), 8f, Keeneland, to Chez Pierre, beating Up To The Mark, Cabo Spirit, Speaking Scout, Dr Zempf, Emmanuel, In Love.

4th

Queen Anne S (G1), 8f, Royal Ascot, to Triple Time, Inspiral, Light Infantry, beating Berkshire Shadow, Chindit, Angel Bleu, Native Trail, Pogo, Lusail.
Timeform 123
Video footage
Watch him go:
see him at his best
Lockinge Stakes (G1), 8f, Newbury, 20 May 2023
Breeders' Cup Mile (G1), 8f, Keeneland, 05 Nov 2022
Poule d'Essai des Poulains (G1), 8f, ParisLongchamp, 15 May 2022
Breeders' Cup Juvenile Turf (G1), 8f, Del Mar, 06 Nov 2021
Woodbine Mile S (G1), 8f, Woodbine, 17 Sep 2022
Somerville Tattersall S (G3), 7f, Newmarket, 23 Sep 2021