€25,000
B 2015 16.2HH (1.68M)
Dubawi – Nightime (Galileo)
Oct 1, Special Live Foal. Standing at Kildangan Stud, Co Kildare
A paragon among thoroughbreds. Dubawi's Horse of the Year and best ever, out of Galileo's first Classic winner. His million-guinea top lot is the biggest-priced colt for a freshman since his grandsire Dubai Millennium's only yearlings. 1,050,000gns, 500,000gns, €600,000, €425,000, €400,000: Godolphin knows just how special a racehorse he was and bought his top five yearlings. 221 foals in his first two crops, and 161 in-foal mares carrying his third.
Pedigree
GHAIYYATH

DUBAWI

DUBAI MILLENNIUM

SEEKING THE GOLD

MR PROSPECTOR

CON GAME

COLORADO DANCER

SHAREEF DANCER

FALL ASPEN

ZOMARADAH

DEPLOY

SHIRLEY HEIGHTS

SLIGHTLY DANGEROUS

JAWAHER

DANCING BRAVE

HIGH TERN

NIGHTIME

GALILEO

SADLER'S WELLS

NORTHERN DANCER

FAIRY BRIDGE

URBAN SEA

MISWAKI

ALLEGRETTA

CAUMSHINAUN

INDIAN RIDGE

AHONOORA

HILLBROW

RIDGE POOL

BLUEBIRD

CASTING COUCH
By DUBAWI (2002) Prix Jacques Le Marois (G1), Irish 2,000 Guineas (G1), National S (G1), etc. Sire of 1,925 foals aged three and up, including GHAIYYATH, MODERN GAMES, NAVAL CROWN, NIGHT OF THUNDER, SPACE BLUES, TOO DARN HOT, MONTEROSSO, AL KAZEEM, ANCIENT WISDOM, BENBATL, COROEBUS, HENRY LONGFELLOW, LORD NORTH, MAKFI, MASTER OF THE SEAS, NEW BAY, POET'S VOICE, REBEL'S ROMANCE, ZARAK, etc.
1st dam: NIGHTIME by Galileo. 2 wins (8f-8¾f) at 3, Irish 1,000 Guineas (G1). Dam of 13 foals, 10 to race, 7 winners:
GHAIYYATH (c Dubawi) Champion, see Race record.
ZHUKOVA (f Fastnet Rock) Champion older filly in Europe, 7 wins (9½f-12f) at 3 to 5, Man O' War S (G1), Blue Wind S (G3), Enterprise S (G3), Alleged S, Noblesse S, Oyster S. Dam of: IMPERIAL EMPEROR (c Dubawi) Winner at 2; First Ruler (g Dubawi) 2nd Tapster S.
Sleeping Beauty (f Oasis Dream) Winner (10f) at 3, 3rd Salsabil S. Dam of:
Irish Territory (c Declaration of War) 2nd With Anticipation S (G3).
KNIGHT TO KING (c Kingman) Winner (9½f) at 3, 2023.
La Chapelle (f Holy Roman Emperor) Dam of:
MAUIEWOWIE (f Night Of Thunder) Curragh S, 2nd Marwell S, Polonia S.
Something Enticing (f Fascinating Rock) Gillies S.
2nd dam: CAUMSHINAUN by Indian Ridge. Champion older mare in Ireland, 5 wins (6f-8f) at 3 and 4, Platinum S. Dam of 8 winners:
NIGHTIME (f Galileo) Group winner, see above.
Mermaid Island (f Mujadil) Winner at 2, 2nd Victor McCalmont Memorial S. Dam of:
ONDINA (f Manhattan Rain) Laelia S.
Holy Cow (f Teofilo) 3rd Centaurea S.
STRAIGHT TALK (c Refuse To Bend) 3 wins at 4 and 5.
PHAENOMENA (f Galileo) 2 wins at 3. Dam of:
KING OF KOJI (c Lord Kanaloa) Meguro Kinen (G2), American Jockey Club Cup (G2), 3rd Kyoto Daishoten (G2).
HARAJUKU (f Deep Impact) Prix Cleopatre (G3), 2nd Prix d'Aumale (G3), Orchid S (G3), Via Borghese S, 3rd The Very One S (G3), Jockey Club Oaks.
OLYMPIAD (g Galileo) 2 wins at 4.
GUNGA DIN (c Green Desert) 2 wins at 4 and 5.
SEAGULL (f Sea the Stars) Winner at 3. Dam of:
WASAAYEF (f Kingman) Winner at 2, 2019.
TAJRIBA (f Teofilo) Winner at 3. Dam of:
Wishfully (f Invincible Spirit) 2nd Prix Casimir Delamarre, 3rd Baden-Baden Cup, Preis des Casino Baden-Baden.
3rd dam: RIDGE POOL by Bluebird. Winner at 2. Dam of 2 winners:
CAUMSHINAUN (f Indian Ridge) Champion, see above.
CANDLERIGGS (g Indian Ridge) 2 wins at 2 and 4.
Stud record
Ghaiyyath's first northern hemisphere crop are two-year-olds of 2024.
Ghaiyyath's first southern hemisphere crop are yearlings of 2023.
Conformation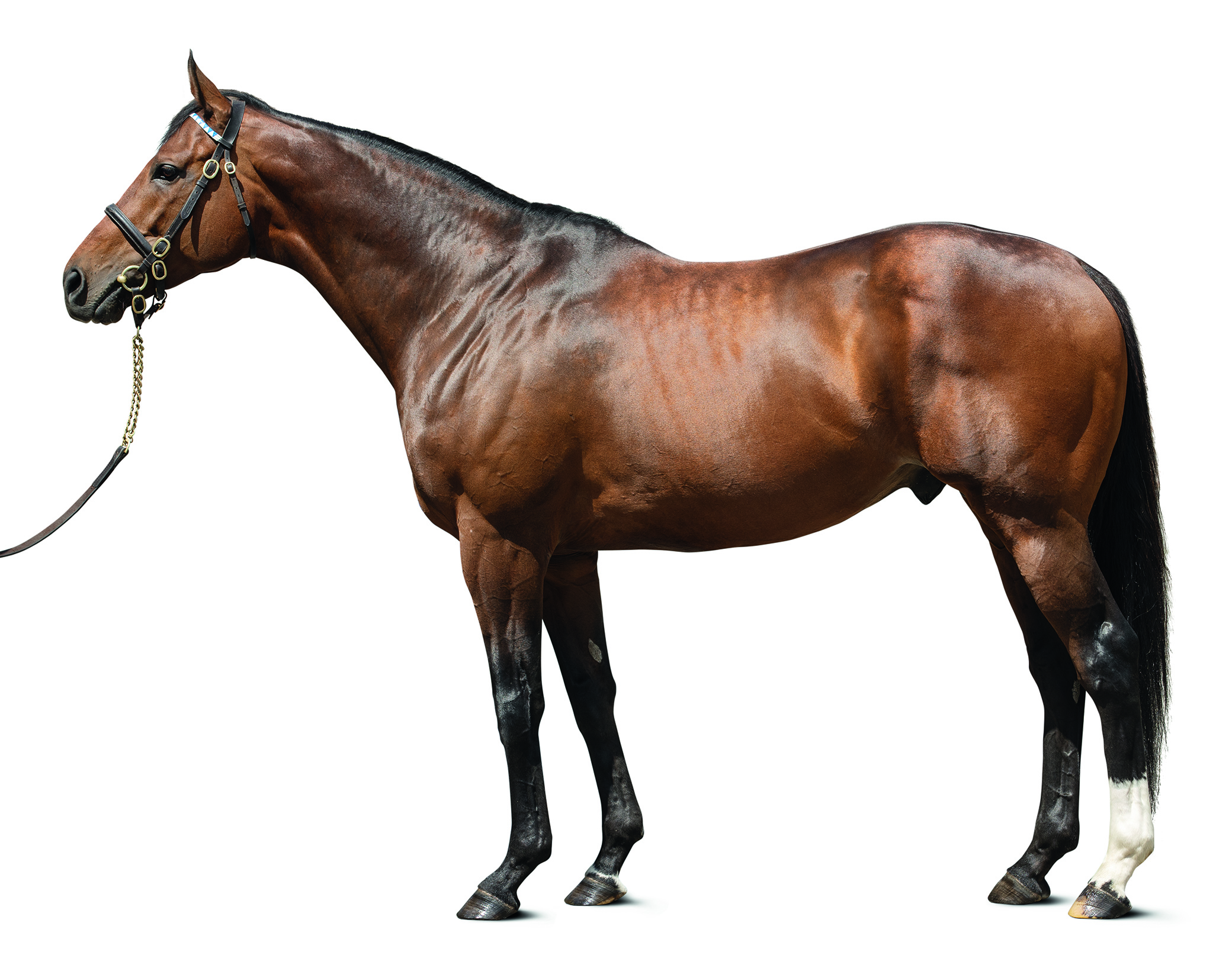 Race record
His successful career
| | | | | | |
| --- | --- | --- | --- | --- | --- |
| Age | Starts | 1st | 2nd | 3rd | 4th |
| Two | 3 | 2 | - | 1 | - |
| Three | 1 | 1 | - | - | - |
| Four | 4 | 2 | - | 1 | - |
| Five | 5 | 4 | 1 | - | - |
| Total | 13 | 9 | 1 | 2 | - |
At 2
1st

Autumn S (G3), 8f, Newmarket, new Stakes record 1:35.92, by 1¾l, beating Dream Today, Purser, Flag Of Honour, Arbalet, Wafy, Zabriskie.

1st

Maiden race, 8f, Newmarket, by 5l, beating Bombyx.
At 3
1st

Prix du Prince d'Orange (G3), 10f, Longchamp, by 3l, beating Sacred Life, Folamour, Chilean, Aviateur, Stage Magic, Willie John.
At 4 Champion older horse in Germany
1st

Grosser Preis von Baden (G1), 12f, Baden-Baden, by 14l, beating Donjah, Laccario, Colomano, Accon, Akribie, Ashrun, Communique.

1st

Prix d'Harcourt (G2), 10f, Longchamp, by 1½l, beating Soleil Marin, Intellogent, Lucius Tiberius, Volfango, Nocturnal Fox.

3rd

Prix Ganay (G1), 10½f, Longchamp, to Waldgeist, Study Of Man, beating Soleil Marin, Intellogent.
At 5
1st

Juddmonte International S (G1), 10½f, York, by 3l, beating Magical, Lord North, Kameko, Rose Of Kildare.

1st

Eclipse S (G1), 10f, Sandown Park, by 2¼l, beating Enable, Japan, Magic Wand, Deidre, Regal Reality, Bangkok.

1st

Coronation Cup (G1), 12f, Newmarket, new course record 2:25.89, by 2½l, beating Anthony Van Dyck, Stradivarius, Broome, Defoe, Alounak, Desert Encounter.

1st

Dubai Millennium S (G3), 10f, Meydan, by 8½l, beating Spotify, Privilegiado, Certain Lad, Desert Encounter, Royal Meeting.

2nd

Irish Champion S (G1), 10f, Leopardstown, to Magical, beating Armory, Sottsass, Japan, Leo de Fury.
Timeform 133
Video footage
Watch him go:
see him at his best
Juddmonte International S (G1), 10f, York, 19 Aug 2020
Coral-Eclipse S (G1), 10f, Sandown Park, 05 Jul 2020
Coronation Cup (G1), 12f, Newmarket, 05 Jun 2020
Grosser Preis von Baden (G1), 12f, Baden-Baden, 01 Sep 2019
Prix d'Harcourt (G2), 10f, Longchamp, 07 Apr 2019
Autumn S (G3), 8f, Newmarket, 14 Oct 2017
Prix du Prince d'Orange (G3), 10f, Longchamp, 22 Sep 2018
Dubai Millennium S (G3), 10f, Meydan, 20 Feb 2020
Maiden race, 8f, Newmarket, 28 Sep 2017
Special insights:
interviews, expert opinion and more
See the full playlist on YouTube