Ch 2017 15.3HH (1.60M)
Shamardal – Winters Moon (New Approach)
Standing at Kildangan Stud, Co Kildare
Shamardal's undefeated French Champion juvenile who won the G1 Morny and G1 Middle Park. 200+ in-foal mares in his first two books include the dams of Blue Point, Dream Castle, La Pelosa and Pakistan Star and sisters to Territories and Poetic Flare. His record-breaking win in the G1 Middle Park was almost three seconds faster than Blackbeard's, both on officially good ground.
Pedigree
EARTHLIGHT

SHAMARDAL

GIANT'S CAUSEWAY

STORM CAT

STORM BIRD

TERLINGUA

MARIAH'S STORM

RAHY

IMMENSE

HELSINKI

MACHIAVELLIAN

MR PROSPECTOR

COUP DE FOLIE

HELEN STREET

TROY

WATERWAY

WINTERS MOON

NEW APPROACH

GALILEO

SADLER'S WELLS

URBAN SEA

PARK EXPRESS

AHONOORA

MATCHER

SUMMERTIME LEGACY

DARSHAAN

SHIRLEY HEIGHTS

DELSY

ZAWAAHY

EL GRAN SENOR

EXOTIC TREAT
By SHAMARDAL (2002) Prix du Jockey Club (G1), Poule d'Essai des Poulains (G1), Dewhurst S (G1), St James's Palace S (G1), etc. Sire of 1,699 foals aged three and up, including EARTHLIGHT, BLUE POINT, PINATUBO, VICTOR LUDORUM, ABLE FRIEND, AMARON, BALTIC BARONESS, CASAMENTO, CASTLE LADY, CRACKERJACK KING, DAN EXCEL, DARIYAN, EMARAATY ANA, LOPE DE VEGA, LUMIERE, MUKHADRAM, PAKISTAN STAR, SAGAWARA, SHEIKHA REIKA, SPEEDY BOARDING, TARNAWA, TRYSTER, ZAZOU, etc.
1st dam: Winters Moon by New Approach. Winner (7f) at 2, 3rd Fillies' Mile (G1), Sweet Solera S (G3). Dam of 5 foals, 3 to race, 1 winner:
EARTHLIGHT (c Shamardal) Champion, see Race record.
2nd dam: SUMMERTIME LEGACY by Darshaan. 2 wins (7f) at 2, Prix des Reservoirs (G3), 3rd Prix Saint-Alary (G1), Prix de Lieurey. Dam of 8 winners:
WAVERING (f Refuse To Bend) 2 wins at 3, Prix Saint-Alary (G1), 3rd Prix Cléopâtre (G3). Dam of:
LIFE IN MOTION (f Sea the Stars) Prix Coronation, Prix Le Fabuleux, Prix Jacques Laffitte, 2nd Prix Rothschild (G1), Prix de Sandringham (G2).
Flowrider (f Street Cry) 3rd Prix Chloe (G3).
Switching (f Street Cry) 2nd Prix de Flore (G3), Prix de Liancourt.
MANDAEAN (g Manduro) 3 wins at 2 and 3, Criterium de Saint-Cloud (G1).
Mister Green (g Green Desert) 5 wins at 2 to 7, 3rd Winter Derby Trial.
Lavender and Lace (f Barathea). Dam of:
Maxi Boy (c Oasis Dream) 3rd Superlative S (G2).
Hurricane Irene (f Green Desert) Unraced. Dam of:
Johara (f Iffraaj) 2nd Prix de la Pepiniere, Prix de la Calonne.
3rd dam: ZAWAAHY by El Gran Senor. Winner at 3. Dam of 7 winners:
SUMMERTIME LEGACY (f Darshaan) Group winner, see above.
Lucy Cavendish (f Elusive Quality) Unraced. Dam of:
CAVERAN (f Hurricane Run) 6 wins, 2 to 4. Dam of: TELEPATIC GLANCES (f Pride Of Dubai) Champion two-year-old filly in Italy, Premio Dormello (G2), Premio Coolmore, Premio Tadolina, 2nd Premio Elena e Sergio Cumani (G3), Premio Royal Mares, Premio Pietro Bessero.
Quiet Waters (f Quiet American). Dam of:
PAS DE SECRETS (c High Chaparral) Songline Classic, 2nd Songline Classic, Norsk Derby, 3rd Oslo Cup (G3).
4th dam: Exotic Treat by Vaguely Noble. Unraced. Daughter of RARE TREAT (Ladies H (G1)); half-sister to WHAT A TREAT (Champion three-year-old filly in the US, Beldame S (G1), Alabama S (G1); dam of BE MY GUEST Waterford Crystal Mile (G2). Champion sire). Dam of 5 winners:
GOLDEN FLEECE (c Nijinsky) Champion three-year-old in Europe, Derby (G1), Ballymoss S (G2), Nijinsky S (G2). Sire.
OFFICE WIFE (f Secretariat) Modesty H, 2nd Queen Charlotte H (G3), New York H (G3), 3rd Firenze H (G2). Dam of:
DANCE TREAT (f Nureyev) La Coupe de Saint-Cloud (G3), Prix de Flore (G3). Dam of: SOUTH EASTER (g Galileo) Dee S (G3), Magnolia S, 2nd Kilternan S (G3), 3rd Huxley S (G3). Grandam of: LIGHT MY FIRE (f Camelot) Premio Paolo Mezzanotte, 3rd Premio del Giubileo (G3), Premio EBF Terme di Merano.
Sharjah (c Nijinsky) 3rd Zetland S. Sire.
Polish Blue (c Danzig) 2nd Daniel Prenn S, 3rd Strensall S. Sire.
Exotic Slew (c Slew O' Gold) 2nd Excelsior H (G2).
Exotic Bride (f Blushing Groom) Placed at 3. Dam of:
Admiral's Well (c Sadler's Wells) 3rd Gold Cup (G1).
Stud record
Earthlight's first northern hemisphere crop are yearlings of 2023.
Earthlight's first southern hemisphere crop are yearlings of 2023.
Conformation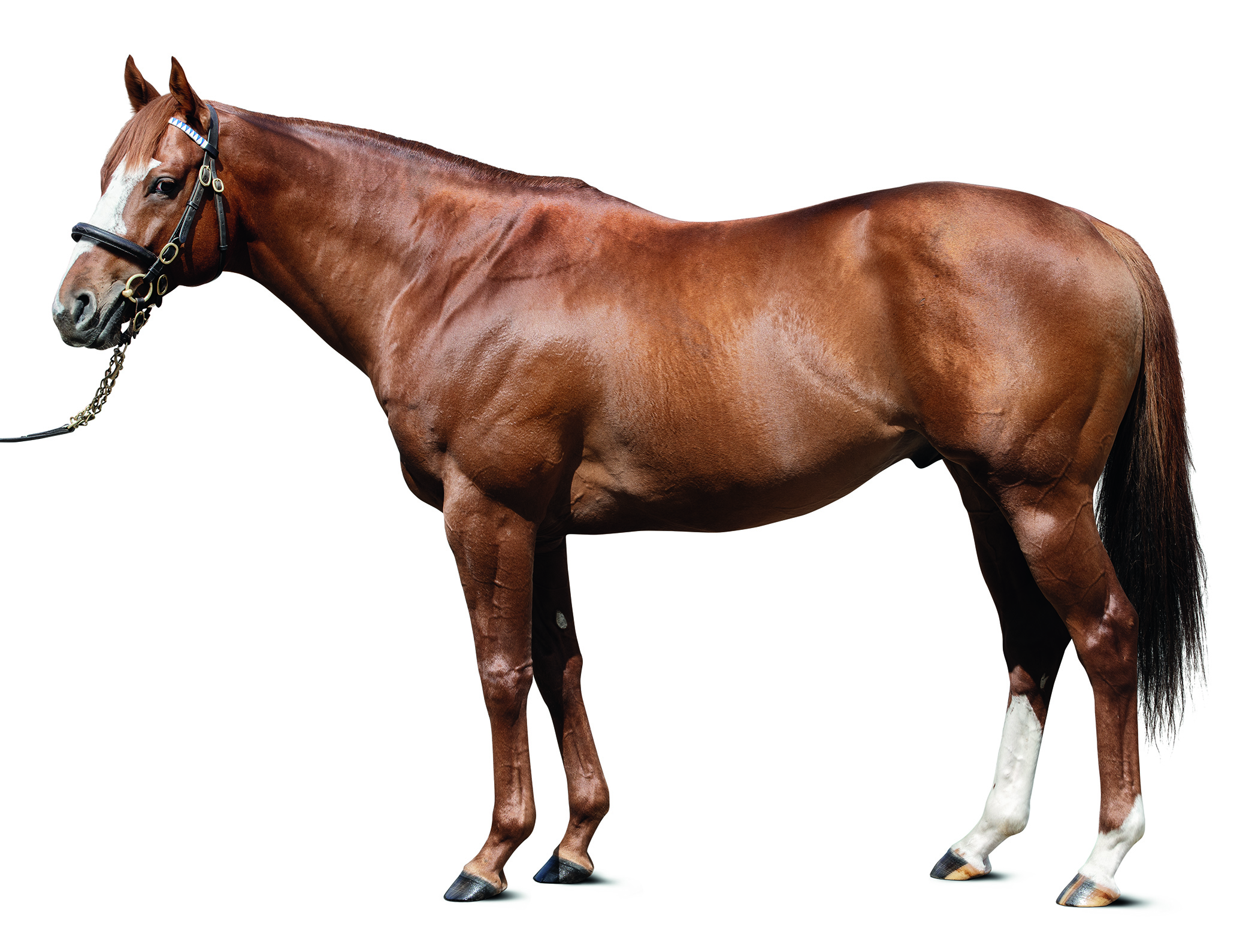 Race record
His successful career
| | | | | | |
| --- | --- | --- | --- | --- | --- |
| Age | Starts | 1st | 2nd | 3rd | 4th |
| Two | 5 | 5 | - | - | - |
| Three | 4 | 2 | 1 | - | 1 |
| Total | 9 | 7 | 1 | - | 1 |
At 2 Champion Two-Year-Old Colt in France
1st

Middle Park S (G1), 6f, Newmarket, new juvenile course record 1:09.31, beating Golden Horde, Summer Sands, King Neptune, Threat, Lope Y Fernandez, Monarch Of Egypt.

1st

Prix Morny (G1), 6f, Deauville, beating Raffle Prize, Golden Horde, Arizona, A'Ali, Aroha, Royal Dornoch, Devil.

1st

Prix de Cabourg (G3), 6f, Deauville, by 4l, beating Well Of Wisdom, Dubai Station, Jolie.

1st

Prix de Caen, 6f, Deauville, by 3½l, beating Les Hogues, Alson.

1st

Prix Prince Bio, 5½f, Maisons-Laffitte.
At 3
1st

Prix du Pin (G3), 7f, Deauville, beating Tropbeau, Manjeer, Spinning Memories, Pretreville, Brave Shiina, Golden Boy, Restiany, Tammani.

1st

Prix Kistena, 6f, Deauville, by 2½l, beating Wanaway, Crew Dragon, Jolie.

2nd

Prix de la Foret (G1), 7f, Longchamp, by a neck, to One Master, beating Safe Voyage, Tropbeau, Rubaiyat, Irska, Spinning Memories, Toro Strike, Pretreville.

4th

Prix Maurice de Gheest (G1), 6½f, Deauville, to Space Blues, Hello Youmzain, Lope Y Fernandez, beating Golden Horde, Wooded, Wichita, Spinning Memories, Batwan.
Timeform 121
Video footage
Watch him go:
see him at his best
Middle Park Stakes (G1), 6f, Newmarket, 28 Sep 2019
Prix Morny (G1), 6f, Deauville, 18 Aug 2019
Prix de Cabourg (G3), 6f, Deauville, 28 Jul 2019
Prix du Pin (G3), 7f, Deauville, 13 Sep 2020
Prix de Caen, 6f, Deauville, 02 Jul 2019
Prix Prince Bio, 5½f, Maisons-Laffitte, 19 Jun 2019
Special insights:
interviews, expert opinion and more
See the full playlist on YouTube