B 2012 15.3½HH (1.61M)
Invincible Spirit – Dani Ridge (Indian Ridge)
Standing at Kildangan Stud, Co Kildare
Leading new source of speed. Invincible Spirit's G1 King's Stand winner is the only stallion with multiple sprinting Group winners from his 2022 three-year-olds. A G2-winning juvenile in both his first two crops and sustained market support with prices up to 150,000gns in 2022. 116 mares in 2022 after siring the G2 Queen Mary winner in his freshman year.
Best progeny
His winning offspring
Video footage
Watch him go:
see him at his best
King's Stand S (G1), 5f, Royal Ascot, 14 June 2016
Temple S (G2), 5f, Haydock Park, 21 May 2016
Palace House S (G3), 5f, Newmarket, 30 April 2016
Special insights:
interviews, expert opinion and more
See the full playlist on YouTube
Pedigree
PROFITABLE

INVINCIBLE SPIRIT

GREEN DESERT

DANZIG

NORTHERN DANCER

PAS DE NOM

FOREIGN COURIER

SIR IVOR

COURTLY DEE

RAFHA

KRIS

SHARPEN UP

DOUBLY SURE

ELJAZZI

ARTAIUS

BORDER BOUNTY

DANI RIDGE

INDIAN RIDGE

AHONOORA

LORENZACCIO

HELEN NICHOLS

HILLBROW

SWING EASY

GOLDEN CITY

DANIELLA DRIVE

SHELTER HALF

TENTAM

GAY MATELDA

DE LAROCHE

NOBLE DECREE

BUVETTE
By INVINCIBLE SPIRIT (1997) Sprint Cup (G1), Duke of York S (G3), MacDonagh Boland S (G3), etc. Sire of 2,071 foals aged three and up, including PROFITABLE, TERRITORIES, CHARM SPIRIT, DIGITAL AGE, EQTIDAAR, FLEETING SPIRIT, HOORAY, KINGMAN, LAWMAN, MAGNA GRECIA, MAYSON, MOONLIGHT CLOUD, NATIONAL DEFENSE, NAZEEF, PEARLS GALORE, ROSDHU QUEEN, ROYAL MEETING, SHALAA, SIGNS OF BLESSING, VALE OF YORK, YOSEI, CABLE BAY, INNS OF COURT, INVINCIBLE ARMY, etc.
1st dam: DANI RIDGE by Indian Ridge. 3 wins (5f-6f) at 4 and 5. Dam of 10 foals, 10 to race, 10 winners:
PROFITABLE (c Invincible Spirit) G1 winner, see race record.
RIDGE RANGER (f Bushranger) 6 wins (5f-6f), 3 to 5, Summer S (G3), Kilvington S, 2nd World Trophy (G3), Flying Fillies' S, Cecil Frail S, 3rd World Trophy (G3), Bullet Sprint S.
Crafty Madam (f Mastercraftsman) 3 wins (6f-7f) at 3 and 5, 3rd Concorde S (G3).
Danidh Dubai (f Noverre) Winner (6f) at 2, 3rd Albany S (G3). Dam of:
GAMGOOM (g Exceed And Excel) Premio Cancelli, 2nd Cleves S.
Nabhan (g Youmzain) 3rd Junioren Preis.
Impulsion (f Footstepsinthesand) 3rd Empress S.
Full Mandate (f Acclamation) Winner (6f) at 2, 2nd Princess Margaret S (G3). 
BADR AL BADOOR (f Acclamation) 4 wins (6f-6½f), 2 to 4. Dam of:
ARCHER'S DREAM (f Dream Ahead) Cathedral S.
RIDGE WOOD DANI (g Invincible Spirit) 9 wins (5f-6f), 2 to 6.
INVINCIBLE RIDGE (g Invincible Spirit) 8 wins (5f-6f), 2 to 9.
ACCLAIM THE NATION (g Acclamation) 7 wins (5f), 3 to 7.
2nd dam: DANIELLA DRIVE by Shelter Half. 12 wins at 2 to 5. Dam of 4 winners:
BLOMBERG (c Indian Ridge) 3 wins at 3 and 4, Diomed S (G3), 2nd Easter S.
BARELLA (g Barathea) Winner at 5.
DANI RIDGE (f Indian Ridge) Winner, see above.
APACHE TRAIL (c Indian Ridge) Winner at 6.
3rd dam: De Laroche by Noble Decree. Placed at 3. Dam of 5 winners:
DANIELLA DRIVE (f Shelter Half), Winner, see above.
I WISH IRISH (c Irish Stronghold) 5 wins, 3 to 6.
RUGGED (f Northern Wolf) 5 wins at 3 and 4.
OPPORTUNITY FOUND (f Lost Opportunity) 2 wins at 3 and 4.
4th dam: Buvette by To Market. 2 wins at 3, 3rd Fury S. Sister to HURRY TO MARKET (Champion two-year-old in US. Sire); SALE DAY (Spinster S). Dam of 8 winners:
Deemed Dividend (g Tentam) 3rd Manitoba Derby.
JR'S LUCKY LADY (f Sensitive Prince) 13 wins at 3. Dam of:
Weaver (g Basket Weave) 3rd Northwest Stallion S (c&g).
Bold Flair (f Bold Reason) Unraced. Dam of:
BOLD CONNECTION (g Dawn of Creation) Rio Grande Kindergarten Futurity, 3rd Rio Grande Futurity.
Early to Market (f Knightly Dawn) Unraced. Dam of:
MARKET DAY (f Kennedy Road) Winner at 3. Third dam of: Chargin Bye (f Tavasco) 3rd ATBA Spring Sales S.
Conformation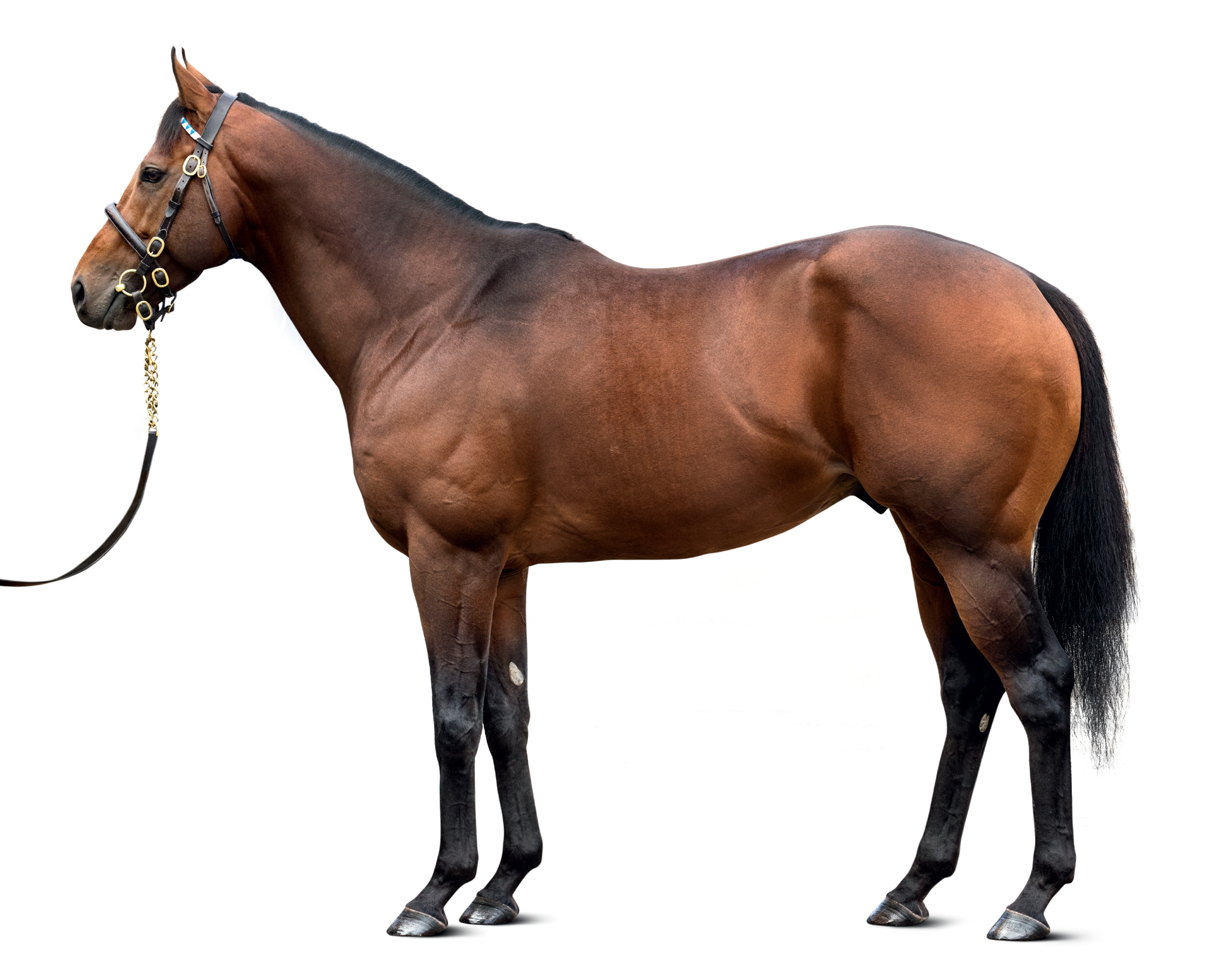 Race record
His successful career
| | | | | | |
| --- | --- | --- | --- | --- | --- |
| Age | Starts | 1st | 2nd | 3rd | 4th |
| Two | 6 | 1 | 4 | - | - |
| Three | 6 | 1 | 1 | - | - |
| Four | 6 | 3 | - | - | 1 |
| Five | 5 | - | 3 | 1 | - |
| Total | 23 | 5 | 8 | 1 | 1 |
At 2
1st

Maiden race, 5f, Sandown Park, by 2¾l

.
At 3
1st

Westow S, 5f, York, beating Tendu, Strath Burn, Zuhoor Baynoona, Fast Act, Lightscameraction

.

2nd

Scurry S, 5f, Sandown Park, to Waady, beating Elysian Flyer, Zuhoor Baynoona, Union Rose, Rosie's Premiere

.
At 4
1st

King's Stand S (G1), 5f, Royal Ascot, beating Cotai Glory, Goken, Jungle Cat, Waady, Medicean Man, Out Do, Move In Time, Mongolian Saturday, Aeolus, Take Cover, Double Up, Sir Maximillian, Pearl Secret, Lancelot du Lac, Mecca's Angel, Hay Chewed.

1st

Temple S (G2), 5f, Haydock Park, beating Mecca's Angel, Waady, Pearl Secret, Aeolus, Kachy, Move In Time, Muthmir, Sir Maximillian, Justineo, Steps.

1st

Palace House S (G3), 5f, Newmarket, beating Jungle Cat, Waady, Spirit Quartz, Take Cover, Aeolus, Kingsgate Native, Hay Chewed, Justineo, Move In Time, Sole Power, Cotai Glory, Line Of Reason, Goken, Dutch Masterpiece, Humidor, Steps, Mirza, Iffranesia, Lancelot du Lac.

4th

July Cup (G1), 6f, Newmarket, to Limato, Suedois, Quiet Reflection, beating Washington DC, Eastern Impact, Magical Memory, Sole Power, Danzeno, Goken, Mongolian Saturday, Air Force Blue, Cotai Glory, Twilight Son, Jungle Cat, Don't Touch, Waady, Arod.
At 5
2nd

King's Stand S (G1), 5f, Royal Ascot, to Lady Aurelia, beating Marsha, Muthmir, Take Cover, Alpha Delphini, Cotai Glory, Signs Of Blessing, Final Venture, Goldream, Ardhoomey, Priceless, Gracious John, Washington DC, Medicean Man, Just Glamorous.

2nd

King George S (G2), 5f, Goodwood, to Battaash, beating Marsha, Take Cover, Washington DC, Final Venture, Glass Office, Priceless, Kachy, Ardad.

2nd

Prix de Saint-Georges (G3), 5f, Deauville, to Signs Of Blessing, beating Finsbury Square, Son Cesio, Rangali, Love Spirit, Eskimo Point, City Money.

3rd

Prix de l'Abbaye de Longchamp (G1), 5f, Longchamp, to Battaash, Marsha, beating Queen Kindly, Rimini, Finsbury Square, Fashion Queen, Alphabet, Son Cesio, Signs Of Blessing.
Timeform 125